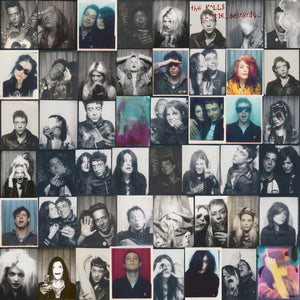 The Kills - Little Bastards CD/2LP
Tax included.
Shipping
calculated at checkout.
---
---
The Kills have compiled an extraordinary career spanning b-sides and rarities album titled, appropriately, "Little Bastards". The songs date back from the band's first 7-inch singles in 2002 through to 2009. All of the material has been newly remastered for release and marks the first ever vinyl pressing for some of these tracks.

The compilation includes the unreleased and never-before-heard demo Raise Me from the 2008-2009 "Midnight Boom" era. Other highlights include I Call It Art from the Monsieur Gainsbourg Revisited covers compilation, the brilliant Midnight Boom digital bonus track Night Train, a blistering performance of Love Is A Deserter from an XFM radio session and a handful of classic American roots songs performed with the kind of bruising delivery they're famous for: Howlin' Wolfs' Forty Four, Screamin' Jay Hawkins' I Put A Spell on You and Dock Boggs' Sugar Baby.
Tracklist:
1. Superpowerless
2. Passion is Accurate
3. Kiss the Wrong Side
4. Raise Me (Demo)
5. Night Train
6. Half of Us
7. London Hates You
8. I Call it Art [Serge Gainsbourg cover]
9. Forty Four [Howlin' Wolf cover]
10. Love is a Deserter (XFM Session)
11. The Search for Cherry Red
12. Magazine
13. Blue Moon
14. Jewel Thief
15. Baby's Eyes
16. I Put a Spell on You [Screamin' Jay Hawkins cover]
17. Run Home Slow
18. Weed Killer
19. The Void
20. Sugar Baby [Dock Boggs cover]
About this product: this is available on CD and 2LP formats.
This CD comes in a jewel case with a 12-page booklet.
The 2LP is the Indie Stores Only edition on transparent neon yellow, housed in a gatefold sleeve and includes a download card.