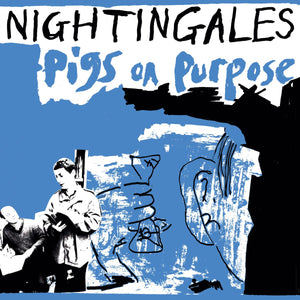 The Nightingales - Pigs On Purpose 2LP
Tax included.
Shipping
calculated at checkout.
---
---
Ripe for rediscovery the sought-after and much acclaimed debut album from seminal Birmingham post punk revolutionaries The Nightingales. This newly expanded "Pigs on Purpose" is remastered by Stuart Moxham with the addition of early demos and non-album singles from this period. The reissue coincides with new "King Rocker" documentary celebrating the life of lead singer Robert Lloyd – a film by Michael Cumming (Brass Eye, Toast Of London), comedian Stewart Lee and James Nicholls (Fire Films, Fire Records).

An early post punk classic, The Nightingales' debut was a strange transmission released as the musical landscape was changing. They were the last important band with roots in the first blossoming of punk and became a major influence upon the explosion of mid-80s indie labels and associated bands.
Tracklist:
1. Blood for Dirt
2. Start from Scratch
3. One Mistake
4. Well Done, Underdog
5. The Crunch
6. The Hedonists Sigh
7. It Lives Again!
8. Make Good
9. Don't Blink
10. Joking Apart
11. Yeah, It's OK
12. Use Your Loaf
13. Blisters
14. Bristol Road Leads to Dachau (Demo)
15. Hark My Love (Demo)
16. Nowhere to Return (Demo)
17. Blisters (Demo)
18. Idiot Strength
19. Seconds
20. The Crunch (Demo)
21. The Hedonists Laugh (Demo)
22. Inside Out
23. Under the Lash
24. Parafin Brain
25. Elvis, the Last Ten Days
About this product: this is pressed on 2x blue vinyl, housed in a gatefold sleeve. Includes download code.