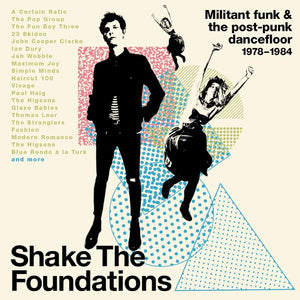 Various Artists - Shake The Foundations (Militant Funk & The Post-Punk Dancefloor 1978-1984) 3CD
Tax included.
Shipping
calculated at checkout.
---
---
From off-kilter funk and electronic minimalism to primal punk howls. It features A Certain Ratio, 23 Skidoo, The Stranglers, Jah Wobble, The Fun Boy Three, The Pop Group, Ian Dury, Nightmares In Wax And Many More.
In the wake of punk's seismic and well recounted impact on the UK music scene, countless hitherto unavailable influences suddenly became available and de rigueur for the nation's would-be pop stars. Enabled by a new kind of record shop that began to appear across the country in Rough Trade's image, and encouraged by an absolute disregard for 'the rules', interested young people were quickly exposed to a broad spectrum of music from beyond the realm of three chord rock 'n roll. Nowhere was the outcome more notable than on the dancefloors of the day.
"Shake The Foundations" captures that after dark revolution, showcasing an era when disco, dub, electronica, funk and – whisper it – pop sensibilities – began to flood into the alternative, post-punk landscape. Running parallel with Ze Records and the no-wave movement in the US, clubs such as Marc Almond's Digital Disco and legendary nights at The Garage in Nottingham, The State in Liverpool, the Blue Note in Derby and across London at nights like the Batcave became fast moving, democratic melting pots.
Across 3CDs, Bill Brewster selects highlights from his own extensive DJing career, each disc individually curated. As he himself puts it, "The important thing was not to impress James Brown, emulate the Fatback Band or wear Kraftwerk's game-face. The point was to have a go. "Shake The Foundations" is not a comprehensive look at post-punk, so much as a shakily hand-drawn map of a particular area. It's what happened when the post-punk fallout collided with the dancefloor, and forty years later we're still feeling its effects".
Tracklist:
- DISC ONE -
1. Guess Who? [A Certain Ratio]
2. Coup [23 Skidoo]
3. 100 Evil Smokestacking Baby [Haircut 100]
4. This Fear of Gods [Simple Minds]
5. Love 30 [The Stranglers]
6. Born Every Minute [The Passage]
7. Sarava [Blue Rondo A La Turk]
8. Serbian Village [Medium Medium]
9. Push Out the Boat [The Higsons]
10. Post War Glamour Girls [John Cooper Clarke]
11. Skin Deep [The Passions]
12. Invaders of the Heart (Mix One) [Jah Wobble]
13. Can You Move [Modern Romance]
14. Slang Teacher [Wide Boy Awake]
15. Hypnotised [C Cat Trance]
16. Stretch [Maximum Joy]
- DISC TWO -

1. Lions [Tones On Tail]
2. Trust is a Must [Ian Dury]
3. What Dance is This? [Perfect Zebras]
4. Faith & Hope & Charity [The Fun Boy Three]
5. Dream Games [Shock]
6. Rusha [Jesse Rae]
7. Don't [Thomas Leer]
8. Big Man Restless [Kissing The Pink]
9. Blue for You [Paul Haig]
10. Frequency 7 [Visage]
11. Bang Em Right [Six Sed Red]
12. Tingle [Quando Quango]
13. Cccan't You See [Vicious Pink]
14. Move On [Fashiøn]
15. Set Fighter [Wide Boy Awake]
- DISC THREE -

1. When Are We? (Now We Are) [Surface Mutants]
2. Why Are We in Love [Furniture]
3. Rob a Bank [The Pop Group]
4. Get It Right [Animal Magic]
5. Black Leather [Nightmares In Wax]
6. Obedience [Normil Hawaiians]
7. Asbestos Lead Asbestos [The 012]
8. Keep Beat [Vee VV]
9. Living Wild [Mataya Clifford]
10. So Many Ways [Electric Chairs]
11. Dreams are Better [London Underground]
12. Arty-Fact [Group Therapy]
13. We Are All Animals [The Diagram Brothers]
14. Quit the Body [The Chicken Granny]
15. Bed Bound Saga [Machine Gunn Hogg And Co]
16. Hoggs Might Fly [Playgroup]
17. Shake (the Foundations) [Glaxo Babies]
18. Disco Purge [Family Fodder]