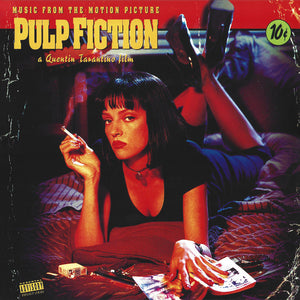 Various Artists - Pulp Fiction: Music From The Motion Picture LP
Tax included.
Shipping
calculated at checkout.
---
---
Dick Dale's surf-guitar provided the memorable title theme (Misirlou) for Quentin Tarantino's 1994 smash, and although that sound runs throughout the soundtrack (along with bits and pieces of dialog from the movie), this is a pretty eclectic bunch of really terrific songs.
Where else are you going to find Chuck Berry, Maria McKee, Al Green, The Statler Brothers, Kool and the Gang, Urge Overkill (singing a Neil Diamond ballad!), Ricky Nelson, Dusty Springfield and the Tornadoes (among others) on one album?
Tracklist:
1. Pumpkin and Honey Bunny [Tim Roth and Amanda Plummer] / Misirlou [Dick Dale & His Del-Tones]
2. Royale with Cheese [Samuel L. Jackson and John Travolta]
3. Jungle Boogie [Kool & The Gang]
4. Let's Stay Together [Al Green]
5. Bustin' Surfboards [The Tornadoes]
6. Lonesome Town [Ricky Nelson]
7. Son of a Preacher Man [Dusty Springfield]
8. Zed's Dead Baby [Maria De Medeiros and Bruce Willis] / Bullwinkle Part II [The Centaurians]
9. Jack Rabbit Slims Twist Contest [Jerome Patrick Hoban] / You Can Never Tell [Chuck Berry]
10. Girl, You'll Be A Woman Soon [Urge Overkill, Neil Diamond cover]
11. If Love is a Red Dress (Hang Me in Rags) [Maria McKee]
12. Bring Out the Gimp [Peter Greene and Duane Whitaker] / Comanche [The Revels]
13. Flowers on the Wall [The Startler Brothers]
14. Personality Goes a Long Way [John Travolta and Samuel L. Jackson]
15. Surf Rider [The Lively Ones]
16. Ezekiel 25:17 [Samuel L. Jackson]
About this product: this reissue is pressed on 180g vinyl.