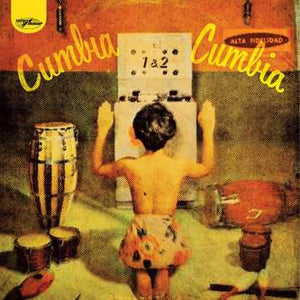 Various Artists - Cumbia Cumbia 1 & 2 2LP
Tax included.
Shipping
calculated at checkout.
---
---
This set brings together some of the greatest recordings made by Colombia's legendary record label, Discos Fuentes, between 1954 and 1988.
Selected from thousands of singles, it runs the gamut of cumbia styles, from powerful salsa-influenced groups through swinging urban big bands, to sixties surf guitar combos and rural percussion-fuelled accordion madness. Legendary performers, classic performances, all propelled and pulsing with that genre defining rock-steady bass.
Featuring Cumbia's biggest hits from Rudolfo y su Tipica, Gabriel Romero, Sonoro Dinamita and Armando Hernandez, "Cumbia Cumbia 1 & 2" is a flawless collection from the Golden Age of Cumbia.
Tracklist:
1. La Colegiala [Rodolfo Y Su Tipica R. A. 7]
2. La Subienda [Gabriel Romero]
3. La Zenaida [Armando Hernandez Y Su Conjunto]
4. Amaciendo [Adolfo Echeverria Y Su Orquesta]
5. Navidad Negra [Pedro Laza y sus Pelayeros]
6. Cumbia Cienaguera [Conjunto Tipico Vallenato]
7. Tabaco Y Ron [Rodolfo Y Su Tipica]
8. La Piragua [Gabriel Romero]
9. La Pollera Colora [Los Inmortales]
10. Se Me Perdió La Cadenita [La Sonora Dinamita]
11. El Pescador De Baru [Los Warahuaco]
12. Cumbia Sampuesina [Conjunto Tipico Vallenato]
13. Cumbia Del Monte [Pedro Laza y sus Pelayeros]
14. Soledad [Cumbia Los Galleros]
15. Baila Rosita [Los Guacharacos]
16. Llorra Acordeon [Los Corraleros de Majagual]
17. Noche De Estrellas [Sonora Del Caribe]
18. Santo Domingo [Los Cumbiamberos De Pacheco]
19. Ritmo De Tambo [La Sonora Dinamita]
20. Cumbia En Do Menor [Lito Barrientos]
21. Cumbia India [Andres Landero]
22. Tabaco Mascao [Combo Los Galleros]
23. Cumbia Campesina [Los Corraleros de Majagual]
24. Cumbia Sabrosa [Climaco Sarmiento]
25. La Samaria [Monteria Swing]
26. Esperma Y Ron [Los Guacharacos]
27. Los Gavilanes [Los Gavilanes De La Costa]
28. La Piojosa [La Sonora Cienaguera]
About this product: this is pressed on 2x 180g red/blue vinyl, housed in a standard sleeve with an obi strip. Includes printed inner sleeves.