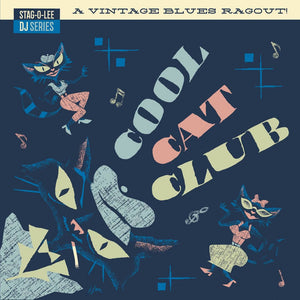 Various Artists - Cool Cat Club (A Vintage Blues Ragout!) 2LP
Tax included.
Shipping
calculated at checkout.
---
---
This compilation follows the highly successful volumes "The Crazy Rhythms Of Mata Hari" and "Shake Your Bones Vol. 3" in this DJ Set series. Again a compressed 80-minute set of a whole evening of DJ-ing.
This time behind the decks - Thorsten Dietsche, Stefan Christiansen and Jonas Rein. The trio is known as Cool Cat Club and they are from Hamburg. They made their name with residencies at the Komet Club and as organizers of the yearly Hitch-Hike weekender.
This limited double-disc features 32 tracks of pure '50s rhythm & blues - hits and rarities well mixed. This is for the dancefloor.
Tracklist:
1. What Have I Done [Jimmy Rogers]
2. Talkin' 'Bout Me [Moose John]
3. Pneumonia [Joe Tex]
4. Misery [Barrett Strong]
5. I Can't Wait [Jeanette Williams]
6. Come on Home [George Allen]
7. I Wanna Dance (But I Don't Know How) [Calvin and Clarence]
8. I Want to Love You [Kenny and Moe]
9. You Need to Fall in Love [Little Jimmy Ray]
10. Little Girl [Sugar Boy Williams]
11. Mama Linda [The Monitors]
12. Slick Chick [Vernon Harrel]
13. Good Enough [Bobby Guy]
14. Hard Times [Jackie Ross]
15. Going Back Where I Belong [Sugar Pie Desanto]
16. I Pawned Everything [Walter Spriggs]
17. What's the Matter Baby [Joe Sheppard]
18. How Much Land (Does a Man Need) [Frank Minion]
19. Bad Man of Missouri [Jimmy Ricks]
20. Preachin' Talk [Roy Corwin]
21. My Isabella [Danny Cobb]
22. Castanet Senorita [Ray Johnson]
23. Boy Meets Girl [Lee Parker]
24. My Love is Coming Down [Kenny Martin]
25. You Gonna Wreck My Life [Howlin' Wolf]
26. Every Whicha Kinda Way [Earl King]
27. We'll Never Meet Again [The Midnighters]
28. Sugar in My Tea (Cream in My Coffee) [Piney Brown and His Toppers]
29. Hey Boy [The Sterlings]
30. Satan is Her Name [Steve King and the Echelons]
31. Blue Fire [Don Ellis and Royal Dukes]
32. Dead [The Poets]
About this product: this compilation is pressed on 2x black vinyl.