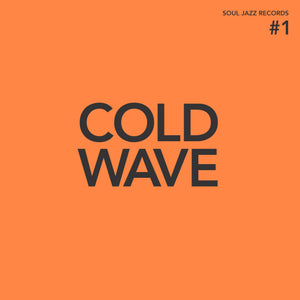 Various Artists - Cold Wave #1 LP
Tax included.
Shipping
calculated at checkout.
---
---
Soul Jazz Records' new "Cold Wave" is a collection of current electronic artists who have all been shaped by the early European cold wave artists of the late 70s and early 80s.
These first artists created new electronic musical landscapes as well as pursuing a stubborn DIY aesthetic, often releasing material on cassette and pioneering use of lo-fi technology, primitive drum machines and home recording techniques. As part of this continued evolution today many of the artists featured here also self-release their own material, run labels, publish fanzines, or are part of wider musical collectives.

Aside from the first electronic, no wave and post-punk artists cited as influences - Suicide, Patrick Cowley, The Normal, Martin Hannett, Laurie Anderson, Public Image - this new generation of artists also show an exquisitely open source of electronic and disparate influences, everything from Underground Resistance to Purcell, from Scientist to new beat and more besides.

Most of the featured artists are based in Europe and include Krikor, Dissemblance and VQOA from France, De Ambassade from the Netherlands, Moisture from Sweden, Kreidler from Germany, Céline Gillian and Carcass Identity from Belgium. One exception is FIT Siegel out of Detroit, connecting the electronic pathways of Europe to the Motor City.

All of the bands featured here make distinctive contemporary music out of the 80s roots of the first cold wave movement.
Tracklist:
1. Capture [Dissemblance]
2. Reflexion Ocean [Carcass Identity]
3. Wayne County Stomp [FIT Siegel]
4. Standhouden [De Ambassade]
5. Approdo [Wang Inc.]
6. Niños Matadores [Krikor Kouchian]
7. Fight or Flight [Céline Gillain]
8. Kannibal [Kreidler]
9. Moisture [Gammut]
10. Of Course I'm A Liar [Violent Quand On Aime]

About this product: this 2LP is pressed on heavyweight orange vinyl with printed inners.