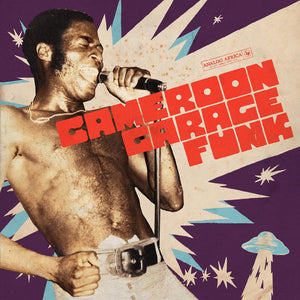 Various Artists - Cameroon Garage Funk CD/2LP
Tax included.
Shipping
calculated at checkout.
---
---
Yaoundé, in the 1970s, was a buzzing place with every neighbourhood of Cameroon´s capital, no matter how dodgy, filled with music spots but surprisingly there were no infrastructure to immortalise those musical riches.

The country suffered from a serious lack of proper recording facilities, and the process of committing your song to tape could become a whole adventure unto itself. Of course, you could always book the national broadcasting company together with a sound engineer, but this was hardly an option for underground artists with no cash.
Tracklist:

1. Africa Iyo [Jean-Pierre Djeukam]
2. Sie Tcheu [Joseph Kamga]
3. Ma Wde Wa [Los Camaroes]
4. Esele Mulema Moam [Los Camaroes]
5. Yondja [Ndenga Andre Destin et Les Golden Sounds]
6. Odylife [Damas Swing Orchestra]
7. Quiero Wapatcha [Charles Lembe et Son Orchestra]
8. Song of Love [Louis Wasson et L´Orchestre Kandem Irenée]
9. Monde Moderne [Pierre Didy Tchakounte et les Tulipes Noires]
10. Les Souffrances [Tsanga Dieudonne]
11. Moni Ngan [Willie Songue et Les Showmen]
12. Mayi Bo Ya? [Johnny Black et Les Jokers]
13. Ma Fou Fou [Pierre Didy Tchakounte]
14. Woman Be Fire [Lucas Tala]
15. Ngamba [Ndenga Andre Destin et Les Golden Sounds]
16. Mezik Me Mema [Mballa Bony]

About this product: this is available on CD and 2LP formats.

The 2LP is pressed on black vinyl.