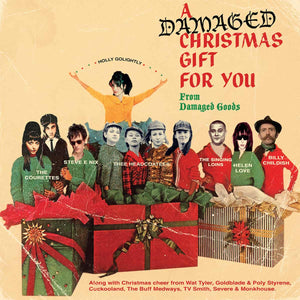 Various Artists - A Damaged Christmas Gift For You LP
Tax included.
Shipping
calculated at checkout.
---
---
Yes it's a Damaged Goods Christmas Compilation featuring some of the best Christmas tracks we've released over the last 20 odd years.
Holly Golightly has two tracks on here, one from a couple of years back, Christmas Tree On Fire, and one from 2002 with The Green Hornes (some of who are now in the Raconteurs) called Little Stars.
Billy Childish has three with three different bands, The MBE's excellent Christmas 1979, The Buff Medways Merry Christmas Fritz and a really early DG release Thee Headcoatees Santa Claus (originally Damgood12, a 7" Picture Disc)
There's last years Xmas 7" Goldblade and Poly Styrenes City of Christmas Ghosts as well as 2005's TV Smith single Xmas Bloody Xmas plus 2001's Helen Love Xmas 7" Merry Christmas (I Don't Wanna Fight).
Then brand new exclusive tracks from The Cute Lepers and The Singing Loins and a great new band called Severe.
Last up we have a couple of obscure tracks from the 1994 and 1996 Christmas singles, Wat Tyler doing God Rest Ye Merry Gentlemen and Monkhouse (a great lost band from Belfast) doing Guinness and Wine.
Next year this might even make it out on record along with a bunch of new tracks as well, but it's good to have it all in one place.

Tracklist:
1. Christmas 1979 [Wild Billy Childish and the Musicians of the British Empire]
2. Christmas (I Can Hardly Wait) [The Courettes]
3. Christmas Tree on Fire [Holly Golightly]
4. Merry Christmas (I Don't Wanna Fight) [Helen Love]
5. Silver Bells [Cuckooland]
6. God Rest Ye Merry Gentlemen [Wat Tyler]
7. Santa Claus [Thee Headcoatees]
8. Stop the Calvary [Severe]
9. City of Christmas Ghosts [Goldblade feat. Poly Styrene]
10. Little Stars [Holly Golightly and the Greenhornes]
11. The Cute Lepers Christmas Song [Cute Lepers]
12. Xmas Bloody Xmas [TV Smith]
13. Ding Dong Merrily on High [The Singing Loins]
14. Guinness and Wine [Monkhouse]
15. Merry Christmas Fritz [The Buff Medways]
About this product: this compilation is pressed on black vinyl.