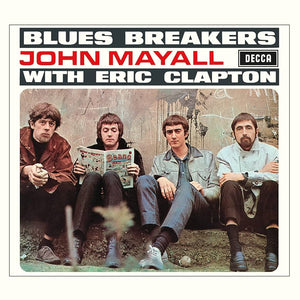 John Mayall - Blues Breakers With Eric Clapton LP
Tax included.
Shipping
calculated at checkout.
---
---
Rarely has any single record album induced such a shift in popular music. "Blues Breakers With Eric Clapton" not only catapulted Clapton to the helm of the burgeoning British blues-rock scene, it likewise made significant noise on the other side of the Atlantic - where the blues had literally been born, bred, and buttered. In addition to Mayall (guitar/vocals) and Clapton (guitar/vocals), this incarnation of the Blues Breakers utilises the talents of John McVie (bass) and Hughie Flint (drums). As a combo, this band was able to reinvent the American blues for a fresh audience whose ultimate response would give rise to subgenres such as heavy metal and other roots-related rock.

While their contributions prove immeasurable, they are likewise sadly eclipsed by that of Clapton. In retrospect - unlike many of the other revolutionary changes occurring in pop music circa the mid-60s - the Blues Breakers are infinitely more subtle in their attack. Their most obvious weapon is the advantage of documenting in-the-studio material from their live performance set. Clapton needed precious little time to gestate the blues. His ability to express himself is uncanny, as if he were a man twice - if not three times - his age. The passionate inflections and unforgettable impressions Clapton makes upon these grooves swiftly catapulted him into both international exposure as well as legendary guitar rock idol status.
"Blues Breakers with Eric Clapton" is an invaluable touchstone into primordial pre-metal rock and roll.
Tracklist:
1. All Your Love
2. Hideaway
3. Little Girl
4. Another Man
5. Double Crossing Time
6. What'd I Say
7. Key to Love
8. Parchman Farm
9. Have You Heard
10. Ramblin' on My Mind
11. Steppin' Out
12. It Ain't Right
About this product: this reissue is pressed on 180g black vinyl.