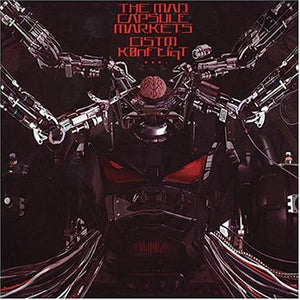 The Mad Capsule Markets - CiSTm K0nFLiqT CD
Tax included.
Shipping
calculated at checkout.
---
---
Tracklist:
1. -Start ID-
2. RETALK
3. Bomb Idea
4. SCARY  -Delete Streamin' Freq from Fear Side-
5. W.O.R.L.D.
6. クラッカー!!!
7. Sunny Beach Rd.
8. GRIM MONSTER
9. LOUD UP !!
10. She Loves It -Download from JOUJOUKA-
11. HAPPY RIDE
12. CiSTm K0nFLiqT...
13. PULSE (Live)
14. Island (Live)
15. W.O.R.L.D. [Music Video]
About this product: Shop stock, any wear is from storage.
The bonus tracks are exclusively for the UK & Eire, and were recorded live at Zepp, Tokyo, Japan (13th June 2004). Features the W.O.R.L.D. music video.