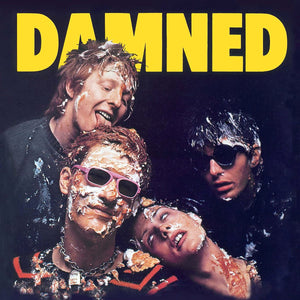 The Damned - Damned Damned Damned LP
Tax included.
Shipping
calculated at checkout.
---
---
The Damned blazed a trail when they became the very first British punk band to release a single (New Rose) on 22nd October 1976, which was swiftly followed by the release of the very first British punk album, their classic debut long-player "Damned Damned Damned", originally released by Stiff Records on 18th February 1977.
To celebrate the 40th anniversary of the band's dramatic breakthrough, a very special Art Of The Album deluxe edition of that incredible debut album came out on 17th February 2017, almost exactly 40 years to the day since its original issue.
Comprehensively researched and written by legendary punk writer John Ingham, new sleeve notes cover in-depth the story of the album and the period in which it was written and recorded, the key players in its creation, the craft and instrumentation, the impact upon release and its legacy 40 years later.
Via exclusive interviews with original band members Dave Vanian, Captain Sensible, Brian James and Rat Scabies, John Ingham (best known for writing the first ever review of The Damned and the first ever interview with The Sex Pistols - both in UK music weekly 'Sounds' in 1976) is perfectly placed to recount the early hedonistic days of the band in this definitive release of one of the most influential albums of all time.
Tracklist:
1. Neat Neat Neat
2. Fan Club
3. I Fall
4. Born to Kill
5. Stab You Back
6. Feel the Pain
7. New Rose
8. Fish
9. See Her Tonite
10. I of the 2
11. So Messed Up
12. I Feel Alright
About this product: this reissue is pressed on yellow vinyl.