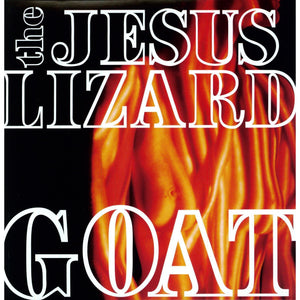 The Jesus Lizard - Goat LP
Tax included.
Shipping
calculated at checkout.
---
---
The Jesus Lizard's second album followed in the vein of the first with little immediate variation: loud, excellently produced by Steve Albini, plenty of space in the recording to emphasize the sheer force of McNeilly's drums and Sims' bass, and more besides.

The little-remarked-upon ability of the rhythm section to kick out some ass-shaking jams spikes up such great numbers as Nub, which almost predicts Rocket From the Crypt down to the gang-shout vocals, and the slower but no-less-compelling grind of Rodeo in Joliet (also one of the band's most inspired titles). Denison's guitar playing seemed a touch more focused at points here, the results almost suggesting such post-punk groove monsters as Gang of Four and even the Pop Group. There's a more evident melodic lead role for his work as well, as the just plain great riff that fires up Mouth Breather and his near-countryish twang on Karpis makes perfectly clear.
Yow, meanwhile, steps ever more into his own persona, his lyrics now downright comprehensible and his singing levels a touch less doom- (and bass) heavy, if no less aggrieved. The staggered vocal overdubs on Monkey Trick are a standout, especially when Denison suddenly serves up another one of his surprisingly sweet passages as a bed. Other treats on the album include the opening Here Comes Dudley - in context one of the more non-welcoming greetings around - and the Morricone-tinged freakout of Lady Shoes, assuming Morricone scored movies about doctors dealing with some freaky female patients.
The whole album seems like a party in hell, not to mention demonstrative proof that there's still plenty of fun to be had with a basic rock lineup; it's all in the matter of how it's handled.
Tracklist:
1. Then Comes Dudley
2. Mouth Breather
3. Nub
4. Seasick
5. Monkey Trick
6. Karpis
7. South Mouth
8. Lady Shoes
9. Rodeo in Joliet
About this product: this reissue is pressed on 180g white vinyl, housed in a deluxe gatefold sleeve. Includes a poster and a download code with extra tracks.