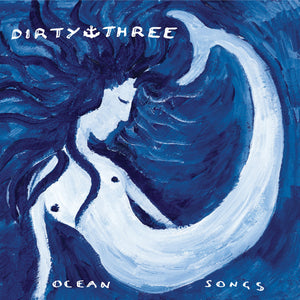 Dirty Three - Ocean Songs 2LP
Tax included.
Shipping
calculated at checkout.
---
---
In March 1998, Australian trio The Dirty Three released their now iconic album "Ocean Songs". In 2005 the band would be joined onstage by Nick Cave to play the album in its entirety at an ATP festival in New York, a show that since has developed into near mythic status.

"Ocean Songs" marked the bands first release with Bella Union and was the second-ever album released on the label, as detailed by boss Simon Raymonde, "An extraordinary record. Visceral, uncategorisable and runs on pure adrenalin and feel. Our first time working with the band, in fact our first time working with ANY band, and was only the second-ever album released on Bella Union back in 1998, a few months after we formed the label. 22 years later and listening to the album afresh, I am filled with emotion hearing these sounds again, as if it were for the first time. It is both vibrant and untamed as any record I've ever heard."
On Ocean Songs, guitarist Mick Turner strums in grand and mournful sweeps while violinist Warren Ellis draws a rough, heart-pulling bow. On top, David Grubbs bumps lonely on his tom while keeping time with scratchy snare whispers and flickering tips and taps on the cymbals. It's a gorgeous blend that is fully informed by folk forms yet still manages to bristle with electricity.
Dirty Three may seem like some mutant folk trio from the old country, but underneath there is a rock band—a dangerous, fire-breathing bunch with lust in their hearts and murder in their eyes. It's these rough edges that allow Dirty Three to speak directly to a boozy, well-worn place where sadness and beauty duke it out.
Tracklist:
1. Sirena
2. The Restless Waves
3. Distant Shore
4. Authentic Celestial Music
5. Backwards Voyager
6. Last Horse in the Sand
7. Sea Above, Sky Below
8. Black Tide
9. Deep Waters
10. Ends of the Earth
About this product: this reissue is pressed on 2x black vinyl.