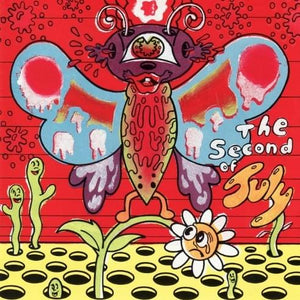 July - The Second Of July LP
Tax included.
Shipping
calculated at checkout.
---
---
The obscure west London psychedelic rock act, July, arose from the ashes of rhythm and blues group The Tomcats, who had some success in Spain in the mid-60s after absorbing members of fellow musical travelers, Second Thoughts.
Back in London in 1968, co-founder Tom Newman, later known for his engineering and production work on "Tubular Bells", shifted the group into psychedelic mode with his guitar friend, Pete Cook, writing material that would draw the guitarist/bandleader Spencer Davis in a management role, leading to a contract with Major Minor records for their self-titled debut LP, which failed to chart, but the inclusion of songs such as My Clown, Dandelion Seeds and The Way on various compilations have assured a strong underground following.
The rare demos that make up "The Second Of July" date from before the debut album was recorded and reveal the group in all their evolving experimental glory, the sound not only blending psychedelic rock and pop with lush harmonies, intricate lead guitar and scintillating keyboards, but also here including Indian elements such as sitar and tabla (and Indian-derived chord sequences), plus trippy tape loops and phasing.
Tracklist:
1. You Missed It All
2. My Clown
3. Dandelion Seeds
4. The Stamping Machine
5. A Bird Lived
6. Look at Her
7. The Way
8. A Friendly Man
9. I See
10. The Girl in the Cafe
11. You See Me, I See You
12. Man Outside
13. Move On Sweet Flower
14. Hallo to Me
About this product: this is pressed on standard black vinyl.