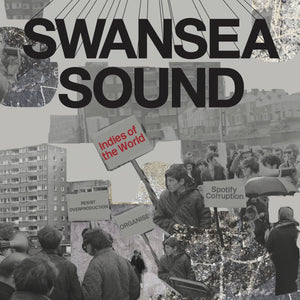 Swansea Sound - Indies Of The World / Je Ne Sais Quoi 7"
Tax included.
Shipping
calculated at checkout.
---
---
Indies of the World is a call to arms. Its aim is to revitalise the Global Pop Underground, fortifying it as it prepares to vanquish the corporate behemoth... okay, it's just a limited release 7" single, but the revolution has to start somewhere.

Hue Williams and Amelia Fletcher of the Pooh Sticks were reunited earlier this year on the first Swansea Sound single Corporate Indie Band. It gained a lot of attention - and airplay - and sold out in a few hours. This new single has the same energy and joy, combined with sardonic, sharp-edged lyrics. 
Indies of the World is for record-lovers, indie dancefloors, non-corporate radio shows, and the flourishing online indie DJ/blogging scene. Flipside Je Ne Sais Quoi is a fizzing duet in which feckless male Hue is berated by nonplussed female partner Amelia. It's like 'C is the Heavenly Option' after a lovers' tiff.
Guitars and bass are by Rob Pursey (Heavenly, The Catenary Wires); drums are by Ian Button (Death in Vegas, Papernut Cambridge). The sleeve design is by Swansea-based artist Catrin Saran James.
These songs are not available on most corporate streaming sites.
Tracklist:
1. Indies of the World
2. Je Ne Sais Quoi
About this product: this is a limited edition single on 7" black vinyl, limited pressing of 300 copies worldwide.