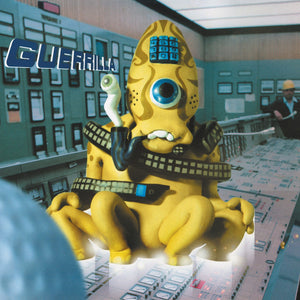 Super Furry Animals - Guerrilla (20th Anniversary) 2LP
Tax included.
Shipping
calculated at checkout.
---
---
"Guerrilla" is the third album by Super Furry Animals. The record was released on 14 June 1999 by Creation Records and peaked at number 10 in the UK Albums Chart.
With a bigger budget from Creation and choosing to self-produce the album with studio wingman / engineer, Michael Brennan, in rural splendour, the band determinedly set about making an upbeat, pop record that would deliver a punch inside 45-minutes. What actually emerged was a kaleidoscopic and indefinable gathering of vibrant songs that, while brimming with intended positivity, embraced accidental studio discoveries, missteps in the recording process and a new sense of democracy as the band shared production duties.
Featuring two hidden tracks, Citizen's Band (inspired by Gruff's experiences during the 1980's CB radio craze in remote North Wales) coming in before the official opener, Check It Out, and Chewing Chewing Gum (Reprise) sitting in the gap after the 'closing' glam-rock stomp of Keep The Cosmic Trigger Happy, Super Furry Animals were found to be in playful mood.
Their selection of singles offered a potent, at-a-glance guide of the band's career-spanning sounds, with Northern Lites' (No.11, UK Singles Chart) poppy, steel drum-infused calypso foretelling the unashamed, hit-making approach that would follow them into 2001's "Rings Around The World" and 2003's "Phantom Power". At the same time, gentle acoustic ballad, Fire In My Heart (No.25, UK Singles Chart) and punky, gobbledygook third single, Do or Die (No.20, UK Singles Chart) shared the charming, naïve immediacy of their debut, "Fuzzy Logic", and it's follow-up "Radiator".

This 20th anniversary reissue is completely re-mastered from original master tapes. Double LP on heavyweight vinyl with pop-up gatefold and features a foreword by Alan McGee, sleevenotes by Ric Rawlins, and previously unseen concept art drawings by Pete Fowler.
Tracklist:
1. Check It Out
2. Do or Die
3. The Turning Tide
4. Northern Lites
5. Citizen's Band [Plays from the inside out - start at the 'end']
6. Nightvision
7. Wherever I Lay My Phone (That's My Home)
8. A Specific Ocean
9. Some Things Come from Nothing
10. The Door to This House Remains Open
11. The Teacher
12. Fire in My Heart
13. The Sound of Life Today
14. Chewing Chewing Gum
15. Keep the Cosmic Trigger Happy / Chewing Chewing Gum (Reprise) (Hidden Track)
About this product: this is the 20th Anniversary remaster/reissue on 2x black vinyl (plays at 45rpm), housed in a gatefold pop-up sleeve.

Side B ends in a locked groove.