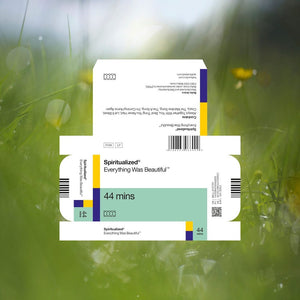 Spiritualized - Everything Was Beautiful LP
Tax included.
Shipping
calculated at checkout.
---
---
During lockdown last year, J Spaceman would walk through an empty "Roman London" where the world was "full of birdsong and strangeness", trying to make sense of all the music playing in his head at the time. The mixers and mixes of his new record weren't working out yet. Spaceman plays 16 different instruments on "Everything Was Beautiful" which was put down at 11 different studios, as well as at his home.
He also employed more than 30 musicians and singers including his daughter Poppy, long-time collaborator and friend John Coxon, string and brass sections, choirs and finger bells and chimes from the Whitechapel Bell Foundry. Eventually the mixes got there and "Everything Was Beautiful" was achieved.
The result is some of the most "live" sounding recordings that Spiritualized have released since the "Live At The Albert Hall" record of 1998, around the time of "Ladies and Gentlemen, We Are Floating In Space".
Tracklist:
1. Always Together with You
2. Best Thing You Never Had (The D Song)
3. Let It Bleed (for Iggy)
4. Crazy
5. The Mainline Song
6. The A Song (Laid in Your Arms)
7. I'm Coming Home Again
About this product: this release is pressed on black vinyl. Includes a download code.