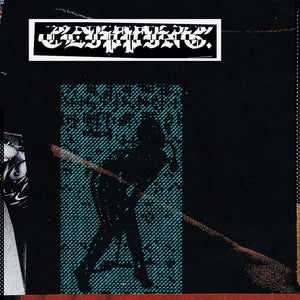 clipping. - Wriggle (Expanded) LP
Tax included.
Shipping
calculated at checkout.
---
---
This LP finally brings a Clipping fan-favourite, 2016's "Wriggle", onto vinyl in an improved, expanded version that features new art, previously unreleased remixes, and a track that's exclusive to the vinyl format.
The original, digital-only "Wriggle" EP was six tracks that weren't finished in time to make it onto the group's 2014 Sub Pop debut, Clippng. For Shooter, Clipping. recorded themselves firing fifteen different guns, the sounds of which exclusively constituted the beat's drums, augmented only by a synthesized tone-row. The verses referenced the well-worn technique of 'hashtag rap', but instead of using it to boast about the rapper's personal wealth and masculine prowess, Clipping put forth imagistic narratives of three violent encounters.
True to much of the group's music, Shooter was an attempt to reframe a familiar style and test the limits of its formal capabilities. Hot Fuck No Love contains what might be the most explicit verse to date from Clipping's favorite New Jersey rapper Cakes Da Killa. The EP's title track, Wriggle, was built around a sample of the influential power-electronics song Wriggle Like a Fucking Eel by Whitehouse, transforming William Bennett's torturous imperative into a instructional dance-floor banger. Wriggle and Shooter have become classic Clipping tracks and staples of their live show.
With this vinyl edition, Clipping fans old and new - and there are many new fans thanks to their breakout 2020 album, "Visions of Bodies Being Burned", and Daveed Diggs' thriving acting career - get the vinyl version of "Wriggle" they've been clamouring for.
Tracklist:
1. Intro
2. Shooter
3. Back Up 2021 [feat. Debby Friday and SB the Moor]
4. Wriggle
5. Hot Fuck No Love [feat. Cakes Da Killa and Maxi Wild]
6. Our Time [feat. Nailah Middleton]
7. Wriggle (Homemade Weapons Remix)
8. Back Up (Dave Quam Remix)
9. Shooter (Jana Rush's Face Rearranged Remix)
10. Wriggle (Cardopusher's Remix)
About this product: this is pressed on transparent turquoise/black marble vinyl.