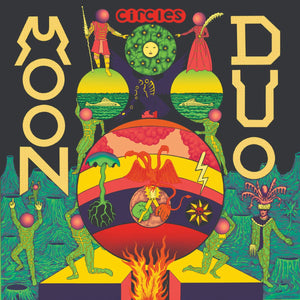 Moon Duo - Circles LP
Tax included.
Shipping
calculated at checkout.
---
---
"Circles", the second full length album from Moon Duo.

"Circles" is the product of a long winter's isolation in the rocky mountains, though the road to its fruition stretched over six months and several locations. The groundwork for the album was laid at the band's home in blue river, Colorado in the early months of 2012, where all songs were written, and the preliminary tracks recorded.
For two weeks in early April, Moon Duo moved into a small apartment above lucky cat recordings in San Francisco for an additional recording session with engineer Phil Manley. Like it's predecessor, the album was mixed and tweaked at Kaiku studios in Berlin.
Inspiration for many of the songs themes, as well as the title "Circles", came from Ralph waldo Emerson's 1841 essay by the same name, on the symbol and nature of 'the flying perfect' from the opening lines: "the eye is the first circle; the horizon which it forms is the second; and throughout nature this primary figure is repeated without end."
Tracklist:
1. Sleepwalker
2. I Can See
3. Circles
4. I Been Gone
5. Sparks
6. Dance Pt. 3
7. Free Action
8. Trails
9. Rolling Out
About this product: this is the Indie Stores Exclusive on green vinyl. Includes a download code.