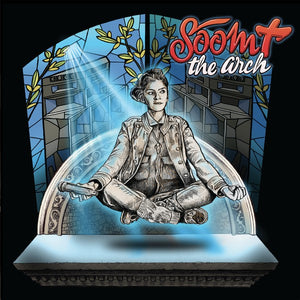 Soom T - The Arch LP
Tax included.
Shipping
calculated at checkout.
---
---
Soom T, a Scottish singer of Indian origin, grew up in a poor district of Glasgow. For her, music is an escape and her brother makes her discover her taste for activist music with in particular Rage Against The Machine, Public Enemy or Cypress Hill.
After having campaigned alongside Y Network, a political group of young representatives from Glasgow neighbourhoods aiming to change their city, Soom T decides to devote herself to music to denounce injustices and tell her daily struggles through militant and impactful lyrics. She first joined a hip-hop group, released a couple of bhangra songs (Indian popular music) and then discovered sound systems and reggae culture thanks to different crews and producers including Bus in Germany, Alex Paterson of cult electronic music group The Orb in the UK and later on Glasgow-based sound system Mungo's Hi-Fi.
If rap remains her favourite mode of expression, Soom T lets herself be seduced by the reggae-dub scene in which she feels free. She was quickly spotted by the public, notably thanks to her generous music and her incisive and inimitable flow. Soom T handles words with incredible ease and has always advocated sincerity in his words. She then became an essential artist in the underground reggae scene.
Tracklist:
1. Original That's Me
2. Salute to the Boss
3. Sold Out to the Devil
4. I Saw a Sign
5. Love the People
6. Likkle England
7. What Do I Do
8. Master of Your House
9. Son Finger
10. Vampire of the Empire
11. World Be Better
12. Far From Home
About this product: this is pressed on standard black vinyl.