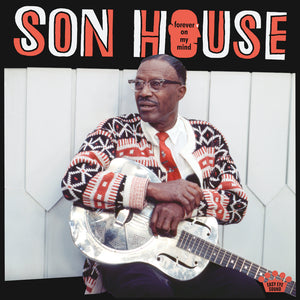 Son House - Forever On My Mind CD/LP
Tax included.
Shipping
calculated at checkout.
---
---
Edward James "Son House" Jr. was one of the most powerful and influential figures in the Mississippi Delta blues style and was noted for his highly emotional singing and vivid steel guitar playing.
After years of hostility to secular music, as a preacher and for a few years also working as a church pastor, he turned to blues performance at the age of 25.
House, who lived in the Robinsonville-Lake Cormorant of the Mississippi area in the 1930s and early 40s, was a major influence on both Robert Johnson and Muddy Waters and, in turn, all of the blues and is considered by many to be the greatest bluesman of all time.

The following Son House recordings are from the legendary writer, promoter, photographer and blues documentarian, Dick Waterman. A crucial figure in the early 60s revival of a handful of mythical blues artists, Waterman catapulted them to the public consciousness, including the fabled and legendary Son House, who had disappeared shortly after the death of Robert Johnson. Waterman recorded this performance in the spring of 1964, and these nuanced recordings present the elder statesman House as a master of his craft in the highest, and features the never before recorded track, Forever on My Mind.

These remarkable field tapes were presented to Dan Auerbach, who cleaned them up to the pristine clarity you hear on this album.
Tracklist:
1. Forever on My Mind
2. Preachin' Blues
3. Empire State Express
4. Death Letter
5. The Way Mother Did
6. Louise McGhee
7. Pony Blues
8. Levee Camp Moan

About this product: this release is available on CD and LP formats.

The LP is pressed on black vinyl.