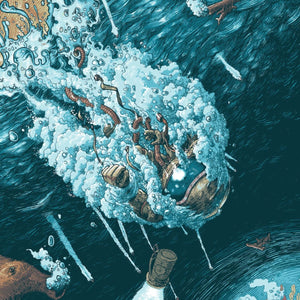 Sleep - Iommic Life 2x12"
Tax included.
Shipping
calculated at checkout.
---
---
A surprise release from stoner rock progenitors Sleep.
This 2x12" single collection features both of Sleep's iconic 12" singles - 2014's The Clarity and 2018's Leagues Beneath - packaged together for maximum monolithic potency.
Each 180g single has music on the A-side and a new etching by artist Dave Kloc on the B-side, plus all new artwork by Kloc on the gatefold jacket.
Tracklist:
1. The Clarity
2. Leagues Beneath
About this product: this is available on black and coloured variations.
The black vinyl singles are pressed on 180g 12" vinyl, with the B-sides featuring etched artwork. Housed in a gatefold sleeve.
The coloured vinyl is the US import, pressed on peach marble and turquoise marble vinyl, limited pressing of 2500 copies worldwide.
The Clarity plays at 45rpm and Leagues Beneath is played at 33rpm.