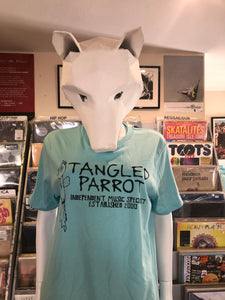 Tangled Parrot Classic Sky Blue Shirt
Tax included.
Shipping
calculated at checkout.
---
---
Our t-shirts are printed by Carry On Screening at Rockaway Park on an ethically produced shirt from No Sweat.
No Sweat create environmentally blank shirts, campaigning and supporting workers rights as well.
Carry On Screening is an established printing company that sources responsibly and as environmentally/ethically as possible: using on-site solar panels, using water-based inks with zero CFCs/HCFCs and GMO free.
Based in a community called Rockaway Park, within a disused quarry, the Carry On Screening and the community recycle and re-use as much as possible.
Vegan friendly.
[A size large is used in the photo]