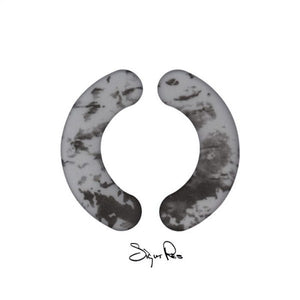 Sigur Ros - ( ) 2LP
Tax included.
Shipping
calculated at checkout.
---
---
An amazing symphony of emotion, 8 movements which together take you on a 72-minute ride that leaves you exhausted and yet exhilarated. It's symphonic depth and stratosphere-surfing melodies more affecting with each subsequent listen. This is an album where happiness and sadness, melody and noise, darkness and light collide. Two brackets tell you everything.
It is the only album where Jónsi sings entirely in the wordless lyrics of Hopelandic. A desire to elide meaning and allow the listener to bring their own interpretation to the music, extends to the eight songs, all of which are nameless. The music is broadly divided into two halves, divided by a critical 36 seconds of silence. The first half of the album being lighter and more optimistic, and the second half bleaker and more melancholic, culminating in the thundering climax of Untitled #8, the closing song of every Sigur Rós show since the song was written in 2000.
Tracklist:
1. Untitled (Vaka)
2. Untitled (Fyrsta)
3. Untitled (Samskeyti)
4. Untitled (Njósnavélin)
5. Untitled (Álafoss)
6. Untitiled (E-bow)
7. Untitled (Dauðalagið)
8. Untitled (Popplagið)

About this product: this is a reissue pressed on 2x 180g vinyl.