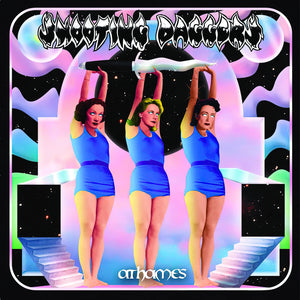 Shooting Daggers - Athames 7"
Tax included.
Shipping
calculated at checkout.
---
---
Six tracks of visceral hardcore punk, full of spit and fury, venom and hooks, with twists and turns going beyond a straight mosh and thrash. You could say that feminist/queercore punk trio Shooting Daggers have been 'nailing it' since the release of their first single on New Heavy Sounds (Manic Pixie Dream Girl) dropped in October last year.
Already a name to watch and a 'must see' on the homegrown punk circuit, the single received a host of love from press folks. For example... "My life for one has been marginally improved by Shooting Daggers' big-riffing feminist chunterpunk entering it".
Tracklist:
1. No Exit
2. Liar
3. Manic Pixie Dream Girl
4. Carnage
5. We Will Live
6. You Can't Kill Us
About this product: this release is pressed on 7" brown vinyl. Limited pressing of 500 copies.