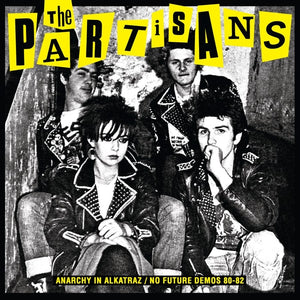 The Partisans - Anarchy In Alkatraz / No Future Demos 80-82 LP
Tax included.
Shipping
calculated at checkout.
---
---
A 19-track round up of demos from The Partisans who formed in Bridgend, South Wales in 1978 and ended up being one of the cream of the UK82 punk movement.

The first side of the LP has 10 tracks recorded in April 1980 in one day and like bands in their early years - it features mainly covers. It includes songs from the Sex Pistols, Stiff Little Fingers, UK Subs, Buzzcocks, UK Subs, Cockney Rejects and yes even more UK Subs. It also has primitive and raw versions of future Partisans classics No Time and I Don't Give a Fuck. This demo has never been heard or released in any form.
Less than a year later, February 1981 with Savage leaving and Louise joining on bass, the band have their most well know line up and in full flow with a 6-track demo that was sent to No Future Records. It's not surprising the label snapped them up straight away as the recordings are high energy and full of anthemic gems.
The label released Police Story and Killing Machine as the debut 7" direct from these recordings. The other four tracks from this demo have never been released on vinyl. The last three tracks are the demos from the 1982 recorded for No Future for the 17 Years of Hell Single. Rawer and more punk than the actual well know versions.
All members of the bands helped in this release and shared original masters from which everything was remastered plus archive from their own personal collections including photos galore, handouts, ticket stubs, interviews etc. which are included in the 28-page booklet.
Tracklist:
1. C.I.D. [UK Subs cover]
2. Belsen was a Gas [Sex Pistols cover]
3. Wasted Life
4. Pretty Vacant [Sex Pistols cover]
5. No Time
6. I Don't Give a Fuck
7. Time's Up
8. Telephone Numbers
9. Flares 'N' Slippers [Cockney Rejects cover]
10. World War [UK Subs cover]
11. I Don't Give a Fuck
12. No U Turns
13. Arms Race
14. Don't Blame Us
15. Police Story
About this product: this is pressed on black vinyl and comes with a 28-page booklet.