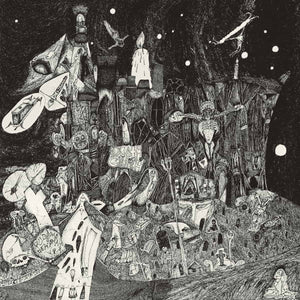 Rudimentary Peni - Death Church CD/LP
Tax included.
Shipping
calculated at checkout.
---
---
The words legendary, seminal, and classic get thrown around at will these days, but Rudimentary Peni's debut album is all of them. Recorded over two days at Southern Studios by John Loder and originally released in 1983 by CRASS off-shoot label Corpus Christi, "Death Church" showed a band moving away from the urgency of their two early 7"s and into their own realm.

Creating a template that bands have been trying to replicate ever since, while ticking all the boxes to become a genre-defining album. Iconic artwork, a unique sound and their own lyrical universe. All merging seamlessly.
Sonically the album is full of Nick Blinko's extraordinary vocals and equally remarkable guitar, Grant Matthews' big meandering driving basslines and Jon Greville's tight and relentless drum work which together made something intricate and hard hitting, with a sequence that makes the 21 songs on the album flow perfectly. Visually, the album is every outsider art lover's wet dream.
A six-panel poster sleeve with every inch covered in Nick Blinko's claustrophobic black and white line drawings, while lyrically the songs deal with madness, religion, death, and questioning humankind from a dark poetic place rarely found in any art form.
Remastered from the original master tapes by Arthur Rizk and housed in a replica poster sleeve, including the original insert.
Tracklist:
1. ¼ Dead
2. Blissful Myth
3. The Psycho Squat
4. Rotten to the Core
5. Poppycock
6. Cosmic Hearse
7. The Cloud Song
8. Vampire State Building
9. Blasphemy Squad
10. When You Are a Martian Church
11. Pig in a Blanket
12. Inside
13. Nothing But a Nightmare
14. Flesh Crucifix
15. Slimy Member
16. Love Is Not
17. Radio Schizo
18. Happy Farm
19. Alice Crucifies the Paedophiles
20. Army of Jesus
21. Dutchmen
About this product: this reissue is available on CD and LP formats.
The LP is pressed on black vinyl.