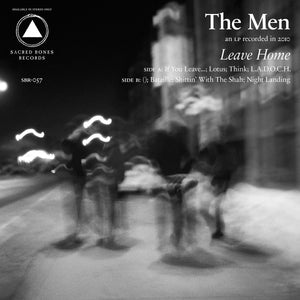 The Men - Leave Home (10th Anniversary) LP
Tax included.
Shipping
calculated at checkout.
---
---
The Men's hugely influential album "Leave Home" came out during an exciting time in New York City.

DIY lofts and shitty bars littered downtown Manhattan and North Brooklyn. The Acheron had just opened its doors. Kill Your Idols had broken up. Toxic State Records was just getting started with Crazy Spirit, Dawn of Humans, Hank Wood and Perdition EP's. The city was alive with punk and noise and filth.
And right at that time, The Men were the show to be at. Every gig was dripping with sweat. Hallways and sidewalks were packed between sets. Chaos reigned in the pit. The Men hit like a bag of hard cement, a hardcore band with a familiar sound but with an aura of absolute chaos and intensity, like everything was on the brink of going off the rails at every moment of their set, a downhill freight train with no brakes.
Tracklist:
1. If You Leave...
2. Lotus
3. Think
4. LADOCH
5. ()
6. Bataille
7. Shitting with the Shaw
8. Night Landing
About this product: this reissue is pressed on white vinyl. Includes a download code.