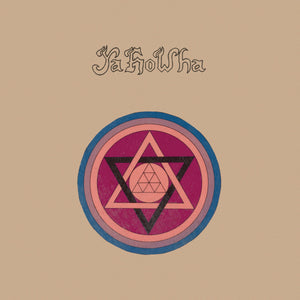 Various Artists - Sacred Bones: Ya Ho Wha LP
Tax included.
Shipping
calculated at checkout.
---
---
Sacred Bones have curated an LP of original Ya Ho Wa 13 and Father Yod and the Spirit of '76 (the musical projects of the Brotherhood of the Source) music from their rich and prolific recording history. For those not familiar, Ya Ho Wa 13, formed in 1973, are regarded as one of the most extreme, groundbreaking and influential psychedelic rock bands in history.

The band released nine super rare LPs (and are rumoured to have recorded 60 LPs worth) full of deep spiritual wisdom, tribal drums and distorted guitars, some of which were completely unrehearsed jam sessions, others which contained more conventional rock songs. Most were recorded after hours of meditation at 3:00-6:00 a.m. in a soundproofed garage that served as the musicians' studio at the family's communal residence.
All of the records with Father Yod's participation were completely improvised, with no rehearsals or overdubs and feature him on lead vocals and percussion, via a kettle drum. Most of their original music was pressed in small runs and are highly sought after collector's items. We are super excited to have listened through hours and hours of this transformative music to bring you what we think is an absolutely essential compilation of some of their best songs.
Tracklist:
1. Ho [Ya Ho Wa 13]
2. A Lady [Father and The Spirit of 76]
3. Every Morning [Father Yod and The Spirit of 76]
4. Oh Ya Ho Wa [Ya Ho Wa 13]
5. The Great Woe [Father Yod and The Spirit of 76]
6. Different Dreams [Father Yod and The Spirit of 76]
7. I'm Gonna Take You Home [Ya Ho Wa 13]
8. Ya Ho Wa [Ya Ho Wa 13]
About this product: this release is pressed on gold vinyl. Includes a foldout newsprint poster.