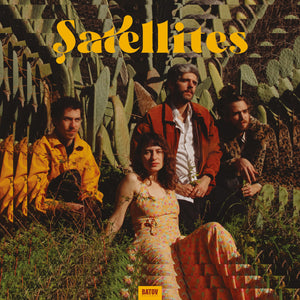 Şatellites - Şatellites LP
Tax included.
Shipping
calculated at checkout.
---
---
The Şatellites' sound shimmers between traditional Turkish folk and instrumentation, ethereal psychedelic guitar leads and groovy dance-floor baselines. The resulting concoction of songs draws on cross continental influence yet at its core is a desire to illuminate the vivid qualities of classic Turkish music, honouring the Anatolian folk and psych artists from this golden era of music.
From the funky disco beat of Disko Arabesque to the celestial lead guitar in Yağmur Yağar Taş Üstüne, the band add fire and flair to time-honoured pieces of Turkish music giving them new meanings. Covering important tracks such as female singer Kamuran Akkor's track Olurmu Dersin, and musician and guitarist Zafer Dilek's Yekte, the album covers an array of original pieces of different musical styles and sounds, that once have and continue to flow out of Turkey.
Tracklist:
1. Big Baglama
2. Hudayda
3. Disko Arabesque
4. Olurmu Dersin [feat. Vicki Ashkenazi]
5. Zuhtu (Live)
6. Seni Sen Olduğun İçin Sevdim
7. Yar Oi
8. Yekte
9. Yağmur Yağar Taş Üstüne
10. Cecom

About this product: this release is pressed on 'Deep Red' vinyl.