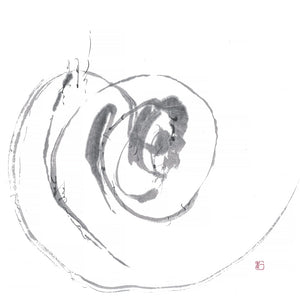 Kosei Fukuda - 流転 陽・RUTEN + 2LP
Tax included.
Shipping
calculated at checkout.
---
---
After two series of conceptual EPs and the intricate experimental "Enso" Festival compilation, Kosei Fukuda returns with a full length solo project – the debut LP. This marks his thirteenth release on the Reiten label – a platform he created to showcase his techno music and the more general, experimental aesthetic agenda of which the club music is but one facet.

This album offers a different take on such explorations, moving towards more nebulous and more fuzzy modes of musical imagination. It is here where Fukuda's music begins to evince ineffable qualities, going beyond words that could definitively grasp its content.
As such it seems to be asking: are patterns really there, or are we projecting them onto the world? This change of the composition style signifies a change of intellectual perspective, the second complementing the first. Drone-like sounds of the opening tracks appear alien initially, but on closer inspection they are reminiscent of this-wordly ambient sounds – just amplified many times over, stretched to a border of recognition, and rearranged for a thought-provoking auditory experience. They are impressionist vignettes where chromatic properties count for much more than any beat or harmonic structure.
Tracklist:
1. 白光 Hakkou
2. 慈光 Jikou
3. 光源 Kougen
4. 回向 Ekou
5. 根源 Kongen
6. 混沌 Konton
7. 法眼 Hougen
8. 霊験 Reigen
9. 幽玄 Yugen
10. 蕭寥 Shouryou
11. 陽炎 Youen
12. 流転 Ruten
About this product: this release is pressed on 2x black vinyl.