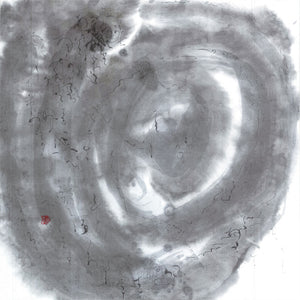 Kosei Fukuda - 流転陰・RUTEN - 2LP
Tax included.
Shipping
calculated at checkout.
---
---
After two series of conceptual EPs and the intricate experimental "Enso" Festival compilation, Kosei Fukuda returns with a full length solo project – the debut LP. This marks his thirteenth release on the Reiten label – a platform he created to showcase his techno music and the more general, experimental aesthetic agenda of which the club music is but one facet. As a producer and sound artist, Fukuda has shared his time between Tokyo and Berlin.

Delving into the music scene of the latter in the late 2010s, he attracted attention of Berghain resident Tobias Freund who mixed all Reiten releases from the third one on in his Non Standard Studios and contributed a remix on the fifth. Soon another remix package followed, with the works by Uchi and Claudio reinterpreting the single "Sky Clair" which in turn paved the way for four subsequent techno twelves and an accomplished ambient EP. Released in a quick succession, they jointly formed a minimalistic narrative arc punctuated by suggestive titles and integrated by dark atmospheres.
That series was a proof of Fukuda's penchant for longer, conceptually inclined works which culminated in early 2020 in the two-vinyl collection of electro-acoustic improvisations under the philosophical aegis of Enso featuring such acts as Recent Arts, Renick Bell or Rabih Beaini.
Tracklist:
1. Akatsuki 暁
2. Kiri 霧
3. Samidare 五月雨
4. Sekka 石火
5. Rinshi 臨死
6. Muyuu Fuyuu 夢遊浮遊
7. Toki No Ma 時ノ間
8. Airen 哀憐
9. Teikan 諦観
10. Inka 陰火
11. Tenkan 天漢
12. Seiun 星雲
About this product: this release is pressed on black vinyl.