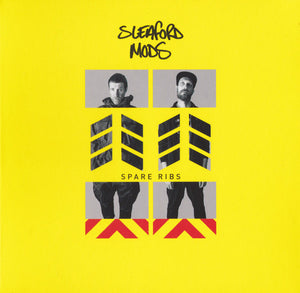 Sleaford Mods - Spare Ribs CD/LP
Tax included.
Shipping
calculated at checkout.
---
---
Poised to blow the cobwebs off life and unleash some much-needed wit and charm upon us, Sleaford Mods are back with their astonishing 6th studio album, entitled "Spare Ribs".
Recorded in lockdown in a furious three-week studio blitz at JT Soar in July, the polemical Jason Williamson and dexterous producer Andrew Fearn kick against the pricks with unrivalled bite, railing against hypocrisy, inequality and apathy with their inimitable, scabrous sense of humour. And "Spare Ribs", featuring Amy Taylor of Melbourne punks Amyl and the Sniffers and the British newcomer Billy Nomates, finds the duo charged with ire at the UK Government's sense of entitlement, epitomized by its devil-may-care approach to the coronavirus crisis.
Commenting on the new album Jason says, "'Our lives are expendable under most governments, secondary under a system of monetary rule. We are stock if you like, parts on a shelf for the purposes of profit, discarded at any moment if fabricated or non-fabricated crisis threatens productivity. This is constant, obviously and notably in the current pandemic. The masses cannot be present in the minds of ill-fitting leaders, surely? Or else the realisation of their catastrophic management would cripple their minds. Much like the human body can still survive without a full set of ribs we are all 'spare ribs', preservation for capitalism, through ignorance and remote rule, available for parts."
Tracklist:
1. The New Brick
2. Shortcummings
3. Nudge It [feat. Amy Taylor]
4. Elocution
5. Out There
6. Glimpses
7. Top Room
8. Mork n Mindy [feat. Billy Nomates]
9. Spare Ribs
10. All Day Ticket
11. Thick Ear
12. I Don't Rate You
13. Fishcakes
About this product: this is available on CD and LP formats.
The LP is pressed on standard black vinyl.