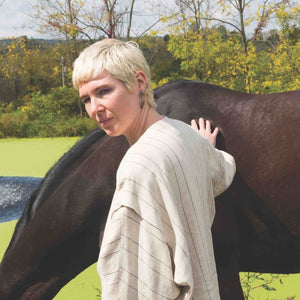 Rosali - No Medium CD/LP
Tax included.
Shipping
calculated at checkout.
---
---
While the collection of songs on Philadelphia / Michigan musician Rosali's electrifying third album, "No Medium", explores the often dark territory of loss, death, sexuality, self-sabotage, and addiction, there is a surprising lightness to its sonic being.
Backed by members of the David Nance Group, Rosali (Long Hots, Wandering Shade, Monocot) wades through the emotional mire with infectious, earworm melodies led by her luminous voice. With their rich, raw instrumentation, these rock ballads sound like the resilience discovered in facing one's darkest moments, the assurance of the calm and clarity that comes after the storm. As she sings on the second track, "Bones," "Through the darkness of the field / I walk through without yielding / To the rest of the feelings / I'm carrying."
With her confident song craft, Rosali illustrates the ability to push through, moving toward something greater without being destroyed by the weight of trauma.
The influences for the sound of "No Medium" reflect this pairing of assured vulnerability, in the stylistic coherence of Bob Dylan's "Desire", the tender delivery in Iain Matthews' "Journey From Gospel Oak", the strut and swagger of Bowie's "Hunky Dory", the ambition and beauty of Gene Clark's "No Other" and the playful catharsis of Harry Nilsson's "Nilsson Schmilsson".
Tracklist:
1. Mouth
2. Bones
3. Pour Over Ice
4. Waited All Day
5. All This Lighting
6. Whisper
7. If Not for Now
8. Whatever Love
9. Your Shadow
10. Tender Heart

About this product: this is available on CD and LP formats.
The LP is pressed on black vinyl.