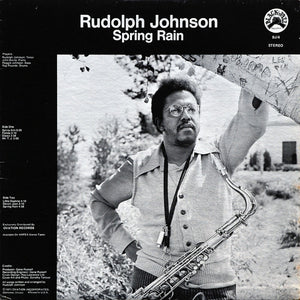 Rudolph Johnson - Spring Rain LP
Tax included.
Shipping
calculated at checkout.
---
---
Columbus, Ohio's Rudolph Johnson drew comparisons to John Coltrane during his career; like the jazz legend in his later years, Johnson eschewed drugs or alcohol and spent his time every day either meditating and rehearsing on his horn.
You can definitely hear a little bit of Coltrane in Johnson's playing on this, his 1971 debut release for the Black Jazz label, the first of two he recorded for the imprint and the first he recorded as a leader after some sideman work (most notably for organist Jimmy McGriff); his ability to explore the upper registers and overtones of his tenor sax while retaining control is quite striking.
Of course, this being a Black Jazz release, along with the bebop sounds of Sylvia Ann and the mid-'60s Blue Note stylings of Sylvia Ann, there's the soul jazz of Diswa and the groove funk of Devon Jean, all played by, as is typical on Black Jazz releases, by top-notch sidemen including drummer Raymond Pounds, who's played with everybody from Stevie Wonder to Pharoah Sanders to Bob Dylan, and pianist John Barnes. Bassist Reggie Jackson, who appeared on the Walter Bishop, Jr. Coral Keys record we previously released, rounds out the quartet.
First vinyl reissue of another stellar Black Jazz release!
Tracklist:
1. Sylvia Ann
2. Fonda
3. Diswa
4. Mr. T.J.
5. Little Daphne
6. Devon Jean
7. Spring Rain

About this product: this is pressed on black vinyl.