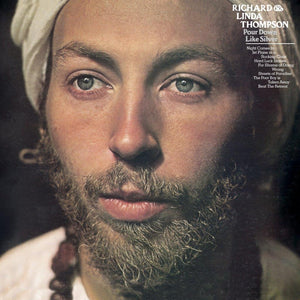 Richard & Linda Thompson - Pour Down Like Silver LP
Tax included.
Shipping
calculated at checkout.
---
---
Richard and Linda's third studio album from 1975. Released in 1975, "Pour Down Like Silver" also known as "The Sufi Album" due to Richard's recent conversion to Islam, is a more restrained and spartan album compared to its lusher sounding predecessors. Hard Luck Stories is probably the most musically upbeat song on the album and wouldn't have sounded out of place on the previous two albums.
The album contains some of Richard's most beautiful songs including For Shame Of Doing Wrong, Beat The Retreat and, particularly, Dimming of the Day which segues into a beautiful solo guitar performance of Scots composer James Scott Skinner's Dargai bringing the album to a fittingly contemplative conclusion.
The album's artwork is something of a departure from the previous 2 albums as it features photographs of Richard and Linda dressed in what Linda referred to as "the latest chic Sufi look".
Tracklist:
1. Streets of Paradise
2. For Shame of Doing Wrong
3. The Poor Boy is Taken Away
4. Night Comes In
5. Jet Plane in a Rocking Chair
6. Beat the Retreat
7. Hard Luck Stories
8. Dimming of the Day / Dargai
About this product: this reissue is pressed on 180g black vinyl. Includes a download card.