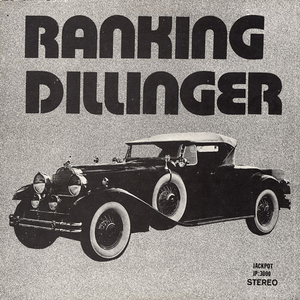 Ranking Dillinger - None Stop Disco Style LP
Tax included.
Shipping
calculated at checkout.
---
---
Top-ranking toaster Dillinger, aka Lester Bullock, is among the most versatile and popular of all the Jamaican deejays. Displaying an ease of verbal dexterity at the microphone, he can attack any subject under the sun with wit and skill.
Emerging from a ghetto area near Waltham Park Road in western Kingston, he began as a protégé to Dennis Alcapone on El Paso sound system, where he was known initially as Alcapone Junior, later switched to Smith the Weapon, based in nearby Payneland.
Recording a glut of material for Lee 'Scratch' Perry under the name Young Dillinger in the early 1970s, he also cut sporadic work for Winston Riley, Prince Tony Robinson, Phil Pratt, Enos McLeod, Augustus Pablo and Yabby You, among others, his debut album, "Ready Natty Dreadie", surfacing from Studio One. Although Channel One broke him into the mainstream with "Cokane In My Brain" and the "CB200" LP, his longstanding connection with Bunny Lee resulted in all kinds of noteworthy material. 
"None Stop Disco Style" is the American issue of the 1977 release also known as "Talking Blues", though slightly re-edited for the US market; with every track presented in 'showcase' style with an extended dub portion, it has excellent Dillinger workouts of Johnny Clarke favourites such as Roots Natty Roots, Natty Congo, Give Up The Badness and Nobody's Business. Killer!
Tracklist:
1. African World Wide
2. Into the African Dub
3. Truth and Right
4. The Right Dubwise
5. Don't Take Another Man's Life
6. Man Size Dub
7. Jah Show Them the Way
8. 12 Tribe Dub
9. Trial and Crosses
10. Into Bradforth Dub
11. See and Blind
12. Striker See Da Dub Ya
About this product: this reissue is pressed on black vinyl.