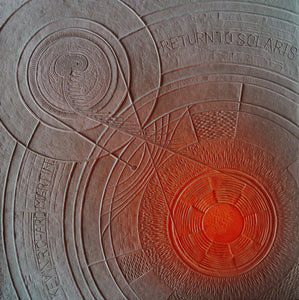 Kevin Richard Martin - Return To Solaris 2LP
Tax included.
Shipping
calculated at checkout.
---
---
Acclaimed UK electronic musician Kevin Richard Martin (The Bug, King Midas Sound) releases a stunningly powerful rescore of Andrei Tarkovsky's seminal 1972 movie "Solaris" on Phantom Limb.

In May 2020, British musician Kevin Martin was invited by the Vooruit arts centre in Gent, Belgium to compose a new score for a film of his choice. Having been long inspired by pioneering Soviet filmmaker Andrei Tarkovsky, Martin tells us that his 1972 masterpiece Solaris was the "natural choice". The film is an unattested giant, not only of science fiction and Soviet film, but also in the annals cinematic history. And its original score, composed by regular Tarkovsky collaborator and early Soviet electronic musician Eduard Artemyev, is a magnificent work of haunting majesty, a key element to the film's brilliance.
The results - an all new score entitled "Return to Solaris" - are breathtaking. The film is intense, psychologically devastating and bleakly compelling. Interweaving themes of love, horror, sorrow, nostalgia, memory and dystopia, Martin's score expertly mirrors this expansive breadth of psychic weight, from existential dread to heartbreaking poignancy, with immense emotional gravity.
Drawn to its "narrative struggle between organic, pastoral memories of a lost past, and the harsh, dystopian realities of a futuristic hell," Martin employs atonal noise, simmering waves of distorted synthesis, undulating drones and otherworldly, astronomic sound-design to crushing effect.
Determined that his score should retain the eerie, dreamlike mood of the film and authenticity to its era and origin, Kevin mined his analogue lab for suitable instruments and recording equipment, favouring antiquated, hands-on hardware over computer-based production techniques. With Voorhuit's help, he acquired an original Pulsar 23 drum machine, created by cult Russian synth builders SOMA Laboratory. Appropriately, much of his rescore is centred around its spectral, strung-out sounds.
Tracklist:
1. Opening Credits (Theme for Kris)
2. Solaris
3. Concrete Tunnels
4. Hari
5. Together Again
6. In Love with a Ghost
7. Weightlessness
8. Resurrection
9. Wife or Mother
10. Rejection of Earth
About this product: this is pressed on 2x black vinyl, housed in a gatefold sleeve.