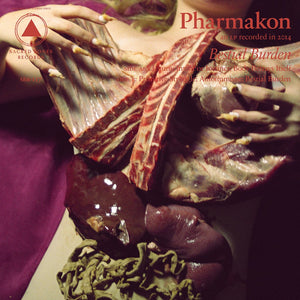 Pharmakon - Bestial Burden LP
Tax included.
Shipping
calculated at checkout.
---
---
Four days before New York noise musician Margaret Chardiet was supposed leave for her first European tour as Pharmakon, she had a medical emergency which resulted in a major surgery. Suddenly, instead of getting on a plane, she was bedridden for three weeks, missing an organ.
"After seeing internal photographs taken during the surgery, I became hyperaware of the complex network of systems just beneath the skin, any of which were liable to fail or falter at any time," Chardiet said. "It all happened so fast and unexpectedly that my mind took a while to catch up to the reality of my recovery. I felt a widening divide between my physical and mental self. It was as though my body had betrayed me, acting as a separate entity from my consciousness."
Consumed by these ideas, and unable to leave her bed, Chardiet occupied herself by writing the lyrics and music that would become "Bestial Burden", the second Pharmakon LP for Sacred Bones Records. The record is a harrowing collection of deeply personal industrial noise tracks, each one brimming with struggle and weighted with the intensity of Chardiet's internal conflict. 
"Bestial Burden" was recorded at Heaven Street Records in Brooklyn, N.Y. with Sean Ragon (Cult of Youth, Venerence), who also recorded 2013's critically acclaimed "Abandon". Ragon allowed Chardiet to experiment with a mix of live recording and tracking, and some of the vocals were recorded live with a small group of people packed into the studio so she could feed off their energy.
The result of those sessions is the bar-raising follow-up to "Abandon", and an invitation to go even deeper into the sometimes terrifying, always fascinating labyrinth that is Margaret Chardiet's mind.
Tracklist:
1. Vacuum
2. Intent or Instinct
3. Body Betrays Itself
4. Primitive Struggle
5. Autoimmune
6. Bestial Burden
About this product: this release is pressed on black vinyl. Includes a printed inlay and download code.