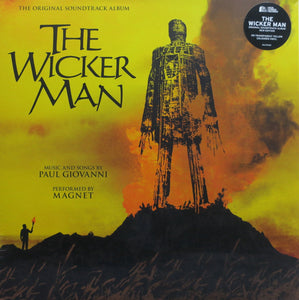 Paul Giovanni & Gary Carpenter - The Wicker Man (The Original Soundtrack Album) LP
Tax included.
Shipping
calculated at checkout.
---
---
The Wicker Man soundtrack has achieved huge cult status over the years, it has certainly proved to be a major influence on neofolk and psychedelic folk artists ever since the film first appeared in cinemas in 1973. The soundtrack's songs were performed by the band Magnet.

The band was assembled by musician Gary Carpenter (the film's associate musical director) to perform songs composed by New York songwriter Paul Giovanni. Giovanni had always planned to release the songs recorded for his soundtrack, firmly believing them to be worthy of existing as an album in their own right.
Of course, this never happened, mostly due to the film's troubled past, and consequently all of the existing soundtrack albums that have been previously released have included extra incidental music from the film.
So, this edition is the final word in the long history of this influential soundtrack, the songs recorded with Paul Giovanni by Magnet are presented here as an album, just as Giovanni himself intended. This definitive version of The Wicker Man has only previously been available as a special edition released in 2013 to celebrate the 40th Anniversary of the release of the film. For that release Silva Screen commissioned artist Richey Beckett to create a brand new image for the cover of a one-off pressing on vinyl, and that edition is long sold out and has become sought after.
This newly put together Silva Screen release features new artwork, extended notes, a gatefold sleeve and is pressed on yellow vinyl.
Tracklist:
1. Corn Rigs
2. The Landlord's Daughter
3. Gently Johnny
4. Maypole
5. Fire Leap
6. The Tinker of Rye
7. Willow's Song
8. Procession
9. Chop Chop
10. Lullaby
11. Festival / Mirie It Is / Sumer is A-Cumen In
About this product: this reissue is pressed on transparent yellow vinyl.