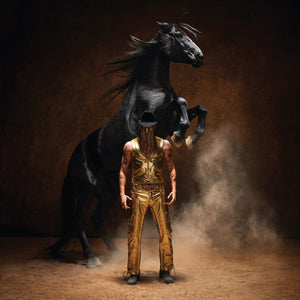 Orville Peck - Bronco 2LP
Tax included.
Shipping
calculated at checkout.
---
---
"Bronco" is the new album from country artist and songwriter Orville Peck.
A consummate storyteller, the country rock inspired "Bronco" plays upon the horse theme so often found in Orville's work, but this time with an exploration of freedom, breaking free from that which binds us and all that is wild and untamed. "Bronco" builds upon and follows Peck's previous album "Pony" and EP "Show Pony", which explored themes of love, loss and loneliness but advances the story arc in a bolder, newer and warmer trajectory.
"This is my most impassioned and authentic album to date," says Peck. "I was inspired by country rock, 60s and 70s psychedelic, California and even bluegrass with everything being anchored in country. Bronco is all about being unrestrained and the culmination of a year of touring, writing in isolation and going through and ultimately emerging from a challenging personal time."
Tracklist:
1. Daytona Sand
2. The Curse of the Blackened Eye
3. Outta Time
4. Lafayette
5. C'mon Baby, Cry
6. Iris Rose
7. Kalahari Down
8. Bronco
9. Trample Out the Days
10. Blush
11. Hexie Mountains
12. Let Me Drown
13. Any Turn
14. City of Gold
15. All I Can Say
About this product: this release is pressed on 2x black vinyl, housed in a gatefold sleeve.