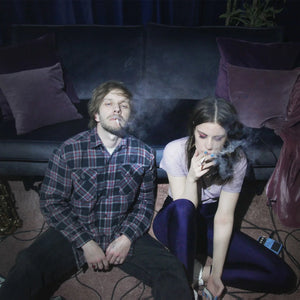 oOoOO & Islamiq Grrrls - Faminine Mystique 2LP
Tax included.
Shipping
calculated at checkout.
---
---
Faminine Mystique's 13 songs are framed by fragments of lost, forgotten, or discredited 20th century artists and genres: the well crafted guitar solos of 80s metal; jazz guitarist Barney Kessel; the Ashley's Roachclip drum break; Milli Vanilli; a Kool DJ Red Alert radio show barely audible on some bedside clock radio in some blue collar town on the outskirts of Manhattan; a freeform saxophone solo over a 2 minute, feminist juke-punk anthem. The elusively simple but dreamy vocals of a France Gall or Astrud Gilberto.
All blended into the compressed sounds of modern pop and RnB.

Tracklist:
1. All of Me [Islamiq Grrrls]
2. Feeling Feelings [oOoOO]
3. The Stranger [oOoOO feat. Islamiq Grrrls]
4. Be on Through [oOoOO]
5. Jobim Goes Latenight [oOoOO]
6. True Blue [Islamiq Grrrls]
7. Later On [oOoOO]
8. You Don't Love Me [Islamiq Grrrls]
9. Y're Gonna Love Me [oOoOO]
10. When Y're All Alone [oOoOO]
11. I Want to be Alone [oOoOO feat. Islamiq Grrrls]
12. Yr Love [Islamiq Grrrls]
13. Ordinary Words [oOoOO]

About this product: this release is pressed on 2x black vinyl with stereo mastering, housed in a gatefold sleeve. Includes a download code.