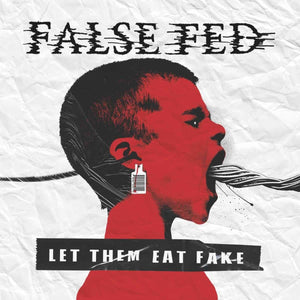 False Fed - Let Them Eat Fake CD/LP
Tax included.
Shipping
calculated at checkout.
---
---
New band featuring: Jeff Janiak (Discharge / Broken Bones), Stig Miller (Amebix / Zygote), Roy Mayorga (Amebix/Ministry/Nausea) and JP Parsons. From the dark roots of Amebix, Discharge and Nausea a new twisted branch of thorns shoots from the alternate family tree.

In 2019 BC (Before Covid) Discharge frontman Jeff Janiak reached out to longtime friend and musician JP Parsons to assist on a new project. The pair wrote and recorded various ideas before reaching out to Amebix guitarist Stig.C.Miller who joined them in the midst of the global pandemic. The trio utilized this new creative climate of physical restriction and went on to set the foundations for their first album, via file sharing home recordings, which would be arranged and produced by Stig. It was several months later when he would call upon Nausea, Ministry and former Amebix drummer Roy Mayorga to complete the line up. Roy went onto record drums, mix and produce the band's debut album "Let Them Eat Fake".
In these unprecedented times of global restriction, fear and the everlasting lack of faith in the hierarchy False Fed has cultivated a heavy sound that is drenched in melody, aggression and shrouded in darkness. It is not bound by genre, yet still offers subtle hints to the creators lineage.
Tracklist:
1. Superficial
2. The Tyrant Dies
3. Echoes of Compromise
4. The Big Sleep
5. Dreadful Necessities
6. Massdebate
7. The One Thing We Cannot Avoid
About this product: this release is available on CD and LP formats.
The LP is pressed on grey w/ heavy black splatter vinyl.