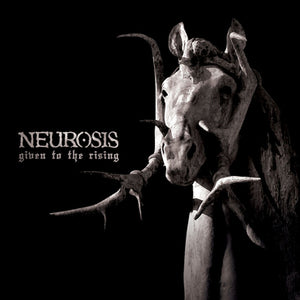 Neurosis - Given To The Rising 2LP
Tax included.
Shipping
calculated at checkout.
---
---
On these San Franciscan metallurgists' ninth album, "Given To the Rising", Neurosis are simply not fucking around.

Within the first note you know you're in for a ride: no staple slow-building intros or atmospheric effluvia, just a crushing primordial mid-tempo riff that eventually falls into one of the album's repeating motifs of bendy, long-hanging funereal guitar lines, all braced with plenty of back-to-basics pummelling.
The sense of purpose is developed further on Fear And Sickness where disjointed yet dissonantly harmonious axe lines dodge and dart in paganistic call-and-response around a swing-like snare and kick drum beat. These two dimly lit apocalypse-summoning tracks shine light on why "Given..." very well may be the best Neurosis album in over a decade - or at least since 1999's signature "Times of Grace".
Tracklist:
1. Given to the Rising
2. Fear and Sickness
3. To the Wind
4. At the End of the Road
5. Shadow
6. Hidden Faces
7. Water Is Not Enough
8. Distill (Watching the Swarm)
9. Nine
10. Origin

About this product: this reissue is pressed on grey w/ black splatter vinyl.