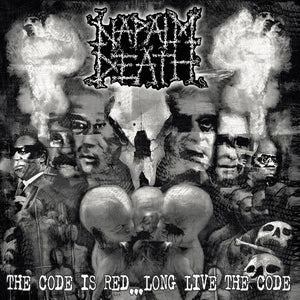 Napalm Death - The Code Is Red... Long Live The Code LP
Tax included.
Shipping
calculated at checkout.
---
---
"The Code Is Red... Long Live The Code" is Napalm Death's eleventh studio album, originally released in 2005.
The album takes the spirit of the early years and combines it with the impeccable musicianship and sheer rage of the latter day material. It makes for a lethal combination.
Tracklist:
1. Silence is Deafening
2. Right You Are
3. Diplomatic Immunity
4. The Code is Red... Long Live the Code
5. Climate Controllers
6. Instruments of Persuasion
7. The Great and the Good
8. Sold Short
9. All Hail the Grey Dawn
10. Vegetative State
11. Pay for the Privilege of Breathing
12. Pledge Yourself to You
13. Striding Purposefully Backwards
14. Morale
15. Our Pain is Their Power
About this product: this reissue is pressed on clear vinyl, housed in a gatefold sleeve.