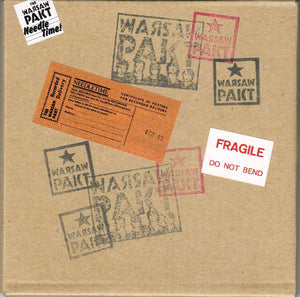 Warsaw Pakt - Needle Time LP
Tax included.
Shipping
calculated at checkout.
---
---
LP + 7" single pack reissued on vinyl for the first time. 
Real high-energy rock'n'roll in its most potent form is best captured live and in the moment. Maximum thrills, minimum frills.
In 1977, London's Warsaw Pakt took that premise one step further, recording their album live, straight through, direct to the cutting lathe-no tape master, no overdubs, no mixing. The record was pressed, packed and shipped overnight and was in the record stores the following day. No procrastination. Instant gratification.
"The idea was to bypass tape and gain a very accurate recording that would be louder and clearer than any other method then available," remembers guitarist Andy Colquhoun.
If the recording method was motivated by an element of gimmickry, no matter, the blazing urgency of the band's performance, combined with a set of edgy, memorable songs makes "Needle Time" one of the most exciting releases of the '70s punk era.It's also one of the most neglected.
Tracklist:
1. It's Not True [The Who cover]
2. Even Monday
3. Fruit Machine
4. Dog Fight
5. Fast Eddie
6. Sick & Tired
7. Nose Bleed
8. Steppin' Outa Line
9. Believe Me Honey
10. Lorraine
11. Safe and Warm
12. Speeding
About this product: this is a limited edition numbered pressing on vinyl. Includes insert with extensive liner notes by Mike Stax (Ugly Things Magazine) and individually hand-customized record cover.