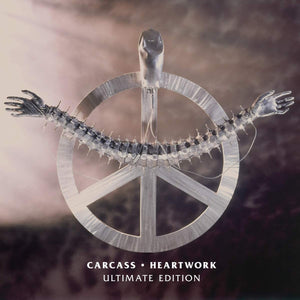 Carcass - Heartwork CD/2LP
Tax included.
Shipping
calculated at checkout.
---
---
Loaded with breakneck percussion, shred-tastic guitar riffs, gut-punch harmonies, and vocalist Jeff Walker's reptilian snarl, Carcass' "Heartwork" (1993) single-handedly influenced every band to emerge from the New Wave of Swedish death metal.
This album has been specially remastered using 'FDR' - Full Dynamic Range mastering - allowing the music's nuances to shine through and giving the whole album a more ferocious and dynamic sound than ever before, and enabling the listener to immerse in the full audio heaviness like never before.
Tracklist:
1. Buried Dreams
2. Carnal Forge
3. No Love Lost
4. Heartwork
5. Embodiment
6. This Mortal Coil
7. Arbeit Macht Fleisch
8. Blind Bleeding the Blind
9. Doctrinal Expletives
10. Death Certificate
11. Buried Dreams (Demo)
12. Carnal Forge (Demo)
13. No Love Lost (Demo)
14. Heartwork (Demo)
15. Embodiment (Demo)
16. This Mortal Coil (Demo)
17. Arbeit Macht Fleisch (Demo)
18. Blind Bleeding the Blind (Demo)
19. Doctrinal Expletives (Demo)
20. Death Certificate (Demo)
About this product: this is available on CD and 2LP formats.
The 2LP is pressed on black vinyl.