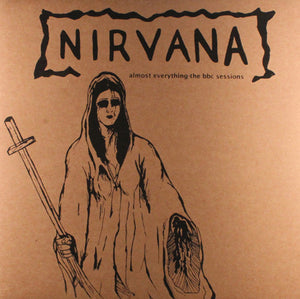 Nirvana - Almost Everything - The BBC Sessions LP
Tax included.
Shipping
calculated at checkout.
---
---
Please be aware: the tracklist shown below is as it's printed on the sleeve, but we've added corrections to the mislabelling of some songs in brackets.
Tracklist:
1. Polly
2. Spank Through
3. Turn Around
4. Here I Am [actually Endless, Nameless]
5. Mollys Lips [The Vaselines cover]
6. Pretty Scary [actually Been a Son]
7. Drain You
8. Love Buzz
9. About a Girl
10. Dementia 7 [actually D-7, The Wipers cover]
11. Meltdown [actually Aneurysm]
12. Dumb
About this product: this is an unofficial bootleg release of several BBC Sessions, and is presented in a screen printed cover.