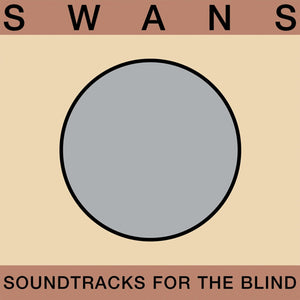 Swans - Soundtracks For The Blind 4LP
Tax included.
Shipping
calculated at checkout.
---
---
Originally released in 1996, and the band's last studio album prior to their 2010 reformation.

As dramatic excursions go, "Soundtracks for the Blind" equals the best. Running over two-and-a-half-hours, this would be a grueling enough listen even without the bejeweled brilliance of the ten actual songs nestled among the found-soundscapes, ambient decompositions and twisted electronic noises that constitute the album's remaining sixteen fragments.
What is hard to convey in print however, is the flow of the album as a whole, the manner in which a vocal track alternates with an instrumental, the carefully crafted ordering which, ultimately, does so much to gloriously disorient the listener.
Soundtracks' sheer length and immensity are its own best explanation.
Tracklist:
1. Red Velvet Corridor
2. Helpless Child
3. I was a Prisoner in Your Skull
4. Live Through Me
5. Yum-Yab Killers
6. The Beautiful Days
7. Volcano
8. Mellowthumb
9. All Lined Up
10. Surrogate 2
11. How They Suffer
12. Animus
13. Red Velvet Wound
14. The Sound
15. Her Mouth is Filled with Honey
16. Blood Section
17. Hypogirl
18. Minus Something
19. Empathy
20. I Love You This Much
21. YRP
22. Fan's Lament
23. Secret Friends
24. The Final Sacrifice
25. YRP 2
26. Surrogate Drone

About this product: this reissue is pressed on 4x black vinyl, housed in a board gatefold sleeve. Includes a download code and poster.